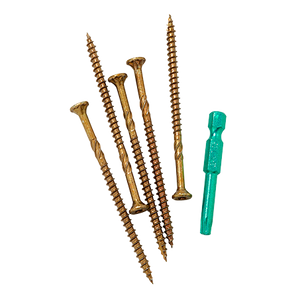 GRK Fasteners R4™ Multi-Purpose Framing #8 x 1-1/2 in.
---
---
GRK's R4™ self-countersinking screw has a patented underhead with saw-blade like cutting teeth and six self-contained cutting pockets. Together they act similar to a circular saw-blade, transporting the drill dust away from the edge of the screw hole while cutting a perfectly clean hole into even the most brittle materials without cracking any surface treatment.
This design enhances the R4™'s versatility by allowing the fastener to countersink into even the hardest woods. The head of the screw closes the hole off with precision, leaving no damaged fibres around the head. R4™ screws 2″ and longer have a four threaded CEE Thread. This enlarges the screw hole for the non-threaded portion of the fastener, allowing the wood to settle easily. It increases the screw's drawing strength and reduces the friction on the screw shank that lowers the driving torque.
Frame with ease and confidence. Multi-use screw for wood, particle board, sheet metal, cement fibre board, laminate and wood decking and melamine. They are self tapping eliminating pre-drilling featuring a countersinking head with cutting teeth, W-Cut™ for reducing splitting, CEE Thread™ for no splitting, reducing install torque and our Climatek™ AC257 code approved coating.
ADVANTAGES
Recessed Star Drive: Zero Stripping, with 6 points of contact.
CEE Thread: Enlarges hole to reduce splitting, install torque.
W-Cut™: Low torque, smoother drive, reduce splitting.
Zip-Tip™: No pre-drilling, faster penetration, reduce splitting.
Cutting Pockets: provide a clean hole, reduces splitting, and bore with precision.
ICC ESR-3201 Approved for structural application.
Case Hardened Steel: for high tensile, torque and shear strength.
Climatek™ Coating is AC257 code approved for use in treated lumber.
For interior/exterior use in; wood, plastic, cement fibre board, particle board, sheet metal, wood decking and melamine.
---
We Also Recommend