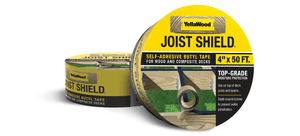 YellaWood Joist Shield® Butyl Decking Tape
---
---
Add a barrier between your deck and moisture damage.
A beautiful deck can significantly enhance the value of a home. However, the framing structure underneath a deck can suffer moisture damage and rot, even while the deck surface itself appears undamaged. YellaWood Joist Shield® decking tape uses the latest butyl technology to help prolong the life of your deck by providing a layer of moisture protection on the tops of joists and beams.
ONE ROLL LASTS FOR YEARS
YellaWood Joist Shield® self-adhesive butyl tape provides a layer of moisture protection on the tops of deck joists and beams, prolonging the life of the entire structure. Butyl tape performs better at high temperatures than asphalt adhesives and won't drip onto outdoor spaces or patios below the deck.
JOIST TAPE THAT'S WORTHY OF THE YELLA TAG
YellaWood Joist Shield® is a premium butyl deck flashing tape with a membrane designed for use on joists and beams. Made to meet the YellaWood® brand's high standards, it is composed of a self-sealing butyl adhesive, laminated to a durable, UV-resistant, engineered film with a siliconized paper release sheet.
INSTALLING YELLAWOOD JOIST SHIELD®
Use 2" tape for joists and 4" tape for beams.
Roll deck tape onto the top of joist or beam by removing the paper release sheet.
Center tape on top of joist (or beam), so top is covered and sides of tape wrap slightly over sides of beam or joist.
Firmly apply pressure to ensure maximum adhesion.
Notch at intersections as needed to ensure edges of tape fully adhere.
BENEFITS
Protects against moisture
Superior adhesion from latest butyl tape technology
Self-seals around screws and nails
Withstands higher temperatures better than ordinary decking tapes
Won't drip like asphalt tapes
Can be applied at cold temperatures
Easy grip edge makes installation a snap
Black surface resists UV and won't show between deck boards
PRODUCT SPECS
Widths: 2" or 4"
UV Resistant
Butyl tape
Siliconized Release Sheet
Length: 50'
Pack Size: Single roll, 12 pack or 24 pack
Product availability varies by region.
---
We Also Recommend